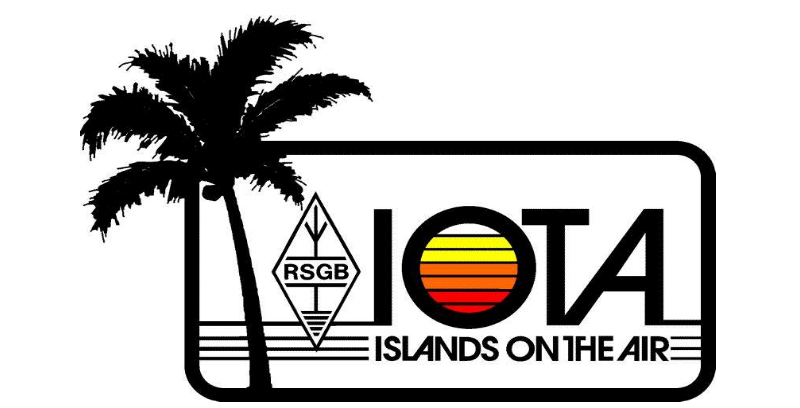 RSGB IOTA Contest
Il Contest RSGB IOTA, utilizza il concetto "Islands on the Air", creato nel 1993, è ora un importante evento internazionale, che attira migliaia di partecipanti da tutto il mondo. I radioamatori viaggeranno nelle isole di tutto il mondo e li metteranno in onda, stabilendo contatti con le altre isole e con quelli che stanno inseguendo le isole.
Le bande di concorso sono 80m, 40m, 20m, 15m e 10m, sia CW che fonia. La durata è di 24 ore, a partire dalle 12:00 UTC di sabato (1 ora del Regno Unito). Le stazioni inviano un rapporto di segnale e un numero di contatto, con le stazioni sulle isole che inviano il loro numero di riferimento IOTA, descritto di seguito.
Il prossimo Contest IGB RSIG è il 27-28 luglio 2019 e una guida per i nuovi arrivati ​​ai concorsi è su www.rsgbcc.org/hf/information/iotahelp.shtml.
Il Contest RSGB IOTA si basa sul programma IOTA "Islands on the Air" che ha recentemente festeggiato il suo 50 ° anniversario. L'idea IOTA fu concepita nel 1964 dall'ascoltatore britannico di onde corte Geoff Watts (SK), che immaginava che quelli di noi che vivono in città affollate amerebbero creare una stazione su una spiaggia assolata tra le palme. Questa prospettiva è interessante per i Radioamatori, anche se l'isola in questione potrebbe non essere più lontana dalla terraferma del Regno Unito rispetto all'Isola di Wight!
Geoff si rese conto che c'erano troppe isole al mondo da elencare, quindi raggruppò le isole, in particolare quando erano piccole. Nel programma IOTA i numeri sono assegnati a ciascun gruppo usando un prefisso continentale. Il premio IOTA di base richiede contatti con 100 isole e gruppi di cui almeno uno da ogni continente. I partecipanti possono ottenere il premio per i QSO effettuati nel Concorso IOTA RSGB.
Il riferimento IOTA, inviato da Island Station nel Contest IOTA, consiste di due lettere che indicano il continente e un numero che indica il riferimento assegnato all'interno di quel continente.
Se hai domande su queste regole, invia un'email a hf.query@rsgbcc.org
ATTIVAZIONI ANNUNCIATE
| | | | |
| --- | --- | --- | --- |
| CALL | ISLAND | IOTA | COUNTRY |
| Deleted  – 5C9A | Los Farallones | AF-118 | Morocco |
| 9A2L | Susac | EU-016 | Croatia |
| 9H6YB | Malta | EU-023 | Malta |
| BG4TRN | Chong Ming | AS-136 | China |
| BO0M | Ma Tsu | AS-113 | Taiwan |
| CR5IC | Insua de Caminha | EU-150 | Portugal |
| DG5LAC/p | Hooge | EU-042 | Germany |
| DJ6OI/p | Neuwerk | EU-127 | Germany |
| DK1A | Usedom | EU-129 | Germany |
| DL/OO4O | Ruegen | EU-057 | Germany |
| DL5KVV/p | Usedom | EU-129 | Germany |
| DX9EVM | Mindanao | OC-130 | Philippines |
| EA6VQ | Mallorca | EU-004 | Balearic Is |
| EJ6KP | Aranmore | EU-121 | Ireland |
| ES0DJ/p | Koinastu | EU-034 | Estonia |
| ES0IA | Kassaar | EU-034 | Estonia |
| G4ALE/p | Isle of Wight | EU-120 | England |
| GM2T | Tiree | EU-008 | Scotland |
| GM7V | Benbecula | EU-010 | Scotland |
| IA5/OM2FY | Elba | EU-028 | Italy |
| IA5/OM2ZZ | Elba | EU-028 | Italy |
| IH9YMC | Pantelleria | AF-018 | African Italy |
| II7P | Brindisi | EU-091 | Italy |
| IL3/DF8DX | Lido | EU-131 | Italy |
| IL7MP | San Domino | EU-050 | Italy |
| IP1T | Tino | EU-083 | Italy |
| IQ3ME/p | Pellestrina | EU-131 | Italy |
| IS0/F8BDQ | Sardinia | EU-024 | Sardinia |
| IS0/OM2TW | Sardinia | EU-024 | Sardinia |
| IT9RZU | Sicily | EU-025 | Italy |
| IV3UHL/p | S Andrea | EU-130 | Italy |
| JA6WJL | Fukue | AS-040 | Japan |
| JI3DST/1 | Shikine | AS-008 | Japan |
| JW/ON7SA | Svalbard | EU-026 | Svalbard |
| K5KUA | Galveston | NA-143 | USA |
| LA/OL7X | Felmosoya | EU-056 | Norway |
| LM450C | Utsira | EU-055 | Norway |
| M/ON6QR | Isle of Wight | EU-120 | England |
| M8C | St Marys | EU-011 | England |
| MD1K | Isle of Man | EU-116 | Isle of Man |
| MW0TSL/p | Caldey | EU-124 | Wales |
| MJ0ICD | Jersey | EU-013 | Jersey |
| MM1E | Great Cumbrae | EU-123 | Scotland |
| MM3T | Bute | EU-123 | Scotland |
| MN5A | Rathlin | EU-122 | Northern Ireland |
| MW0DHF/p | Holy | EU-124 | Wales |
| NY3A/3 | Smith | NA-140 | USA |
| OJ9A | Kataja Inakari | EU-192 | Finland |
| OZ/DL5CW | Hjarno | EU-172 | Denmark |
| OZ8SW | Sjaelland | EU-029 | Denmark |
| OZ9V/p | Samso | EU-172 | Denmark |
| PA/ON4IBM | Schouwen Duiveland | EU-146 | Netherlands |
| PA5TT | Schouwen Duiveland | EU-146 | Netherlands |
| PA6TXL | Texel | EU-038 | Netherlands |
| PX8D | Mexiana | SA-042 | Brazil |
| PY0F | Fernando de Noronha | SA-003 | Fernando de Noronha |
| R66IOTA | Popov | AS-066 | Russia (Asia) |
| RA1ZZ/p | Vikhrevoy | EU-117 | Russia (Europe) |
| RU6DX/p | Sudzhuk | EU-185 | Russia (Europe) |
| SN0RX | Wolin | EU-132 | Poland |
| SV8/OM6NM | Zakynthos | EU-052 | Greece |
| SV8GGI | Salamina | EU-075 | Greece |
| TM7P | Petite | EU-107 | France |
| TM5S | Sein | EU-068 | France |
| TX2A | Raivavae | OC-114 | Austral Is |
| VE2CY/p | Isle aux Coudres | NA-128 | Canada |
| VE2OV/p | Isle aux Coudres | NA-128 | Canada |
| VE7ACN/7 | Bowen | NA-081 | Canada |
| VK4NM | Fraser | OC-142 | Australia |
| VX2A11 | Grosse Ile | NA-038 | Canada |
| W2IY | Mt Desert | NA-055 | USA |
| W4MY | Roanoke | NA-067 | USA |
| YJ0CA | Efate | OC-035 | Vanuatu |
| YJ0GA | Efate | OC-035 | Vanuatu |